THE FIRST HYBRID FUNGICIDE THAT UNITES THE DISEASE FIGHTING POWER OF BOTANICAL & CONVENTIONAL CHEMISTRIES.
REGEV is a combination of Tea Tree Extract and difenoconazole, and controls a broad range of plant diseases on arable crops, fruits, and vegetables. Growers can now obtain remarkable disease control from eight powerful mechanisms of activity, with only one residue.
With preventative and double kick-back curative activity, efficacy against a broad spectrum of bacterial and fungal diseases in a wide range of crops, plus the ability to enhance plant growth and yield, REGEV provides significant value to growers. These attributes make REGEV an important new component in disease management and control programs.
REGEV allows farmers to reduce synthetic pesticide usage, maintain a strong resistance management program while still obtaining excellent crop disease control against both fungal and bacterial pathogens. Studies have shown that a combination of Tea Tree Extract together with difenoconazole improved the efficacy of difenoconazole and the sensitivity of difenoconazole against fungal isolates which exhibited a lower sensitivity to difenoconazole.
REGEV SUPPLEMENTAL LABEL FOR POME AND STONE FRUIT NOW AVAILABLE
The EPA recently approved a supplemental label allowing pome and stone fruit growers to protect their crops from fungal and bacterial disease with REGEV hybrid fungicide. Watch the video below to hear Dr. Eric Tedford, R&D Manager at Summit Agro, give a brief presentation showing how REGEV delivers remarkable preventive, anti-sporulant and curative control in pome and stone fruit.
EIGHT MECHANISMS OF ACTIVITY
REGEV works through eight powerful mechanisms of activity for high efficacy against a wide range of fungal and bacterial plant diseases. Tea Tree Extract (FRAC BM01) contains a unique combination of terpenes that act on fungal pathogens by disrupting their cell membrane and inhibiting sporulation, spore germination, respiration, ion transport and mycelial growth. Unlike most fungicides, the Tea Tree Extract in REGEV also battles bacterial pathogens, by inhibiting the infection process. Difenoconazole (FRAC 3) reinforces Tea Tree Extract by inhibiting fungal ergosterol biosynthesis, for greater disease control. All these mechanisms combine for the broad-spectrum trifecta protection of preventative, anti-sporulant and double kick-back curative activities.
ADVANTAGES
High efficacy against many fungal and bacterial diseases

Preventative and double kick-back curative disease control

Eight mechanisms of activity with only one MRL

Very low probability for the development of resistance or cross-resistance in plant pathogens

Controls a wide range of plant diseases on a broad list of treated crops

Inhibits spore germination and lesion development on treated leaves

Enhances plant growth and yield

Easy to use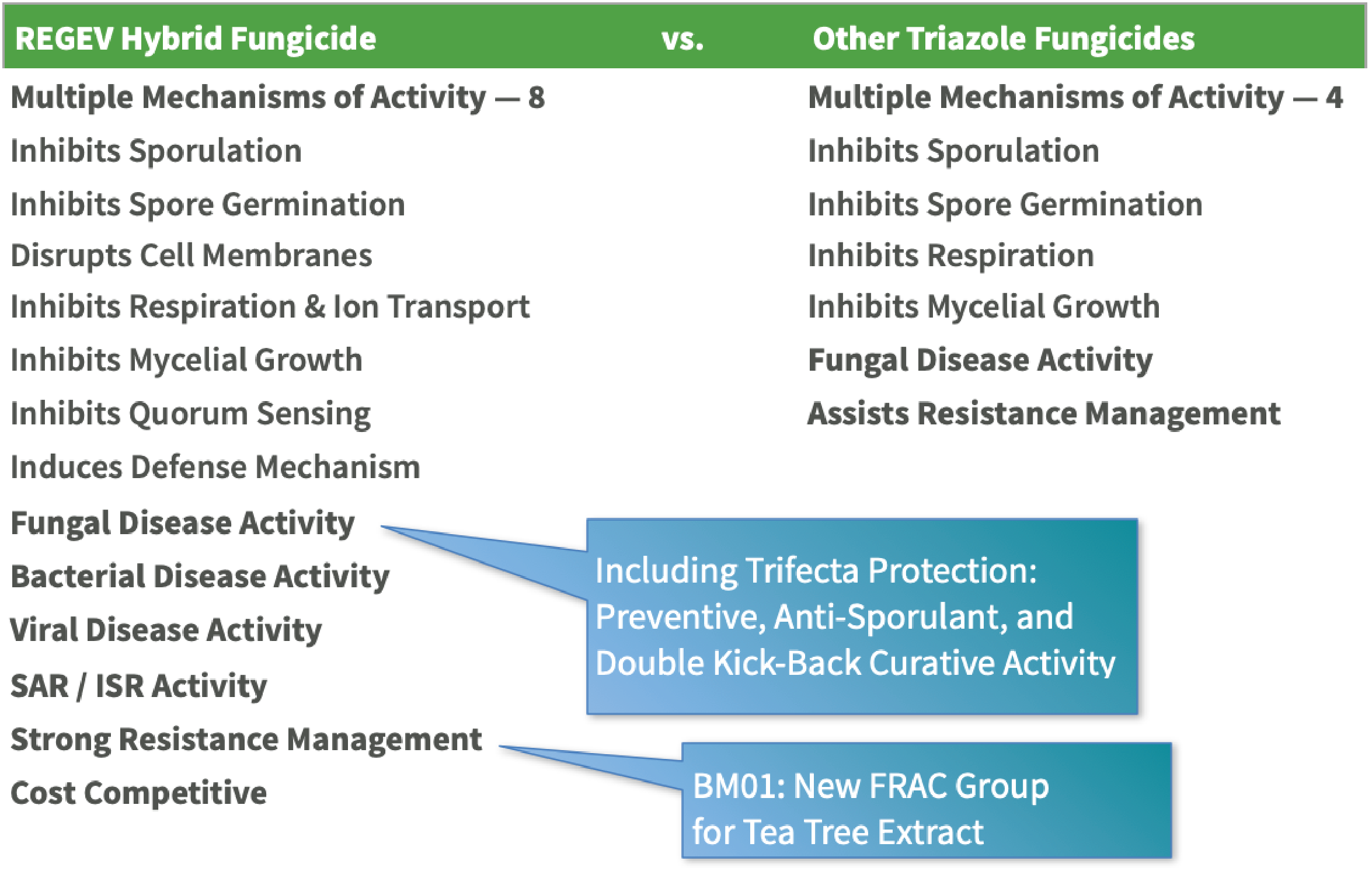 DATA DEMONSTRATES THE EFFECTIVENESS OF REGEV